The Camden Bataan COHO - Preselling Condominium
Premium project of Vista Land in Cupang Balanga Bataan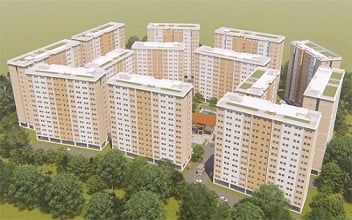 Project Type : Condominium
Listing Type : Preselling
Developer Name : Vista Land
Units : 1 BR, 2 BR
Price: ₱ 3,164,000 & Up
Address : Roman Highway, Brgy. Cupang, Balanga City, Bataan
Location : Balanga , Bataan PH The Camden Bataan COHO Vista Land The Camden Bataan COHO The Camden Bataan COHO Vista Land The Camden Bataan COHO Balanga
https://camdenbataan.phproperty.com/
The Camden Bataan COHO is now rising at Balanga City, Bataan. This awesome condominium-home (COHO) is another residential development of Vista Land, the condominium arm of Vista Land & Landscapes, Inc. and the first of its kind in Bataan. The Villar-led Vista Land carries the company's signature development that caters mostly to OFWs, young professionals, starting and upgrading families, and even to foreigners who want to stay in the country for good.

The Camden Bataan is located in the heart of Central Luzon and has easy access to Subic, San Fernando City, and Angeles City, and even Metro Manila. This Vista Land development is part of the P25 billion COHO (condominium-home) project that is expected to rise in 24 other locations across the Philippines. Balanga City is one choice by the company because of its strategic location near other cities and towns of Central Luzon. The condo-home development rises along Balanga City's Roman Highway near schools, commercial centers, churches, hospitals, and other key destinations in the region. The city is also fast-rising as an economic powerhouse in the region.

The Camden Bataan COHO features unique One-bedroom and Two-bedroom units with sizes ranging from 30.36sqm to 40.26sqm. The one-bedroom units can be combined to form a larger unit depending on your needs. Living in the outskirts of Balanga, Bataan has so many perks and benefits including the best chances for employment, education, and business endeavors.

Moreover, if you like a natural setting that will boost your mood every morning, Camden Bataan COHO will fascinate you with its amazing views of the mountains of Bataan (Mt. Samat and Mt. Mariveles) and the majestic Manila Bay, just in one perfect location near your home.
The Camden Bataan COHO Vista Land For Sale Price List

| Unit Name | Project Name | Developer | Price (₱) | Location |
| --- | --- | --- | --- | --- |
| 1 Bedroom | The Camden Bataan COHO | Vista Land | 3,164,000 | Cupang in Balanga, Bataan |
| 1 Bedroom Premium | The Camden Bataan COHO | Vista Land | 4,202,000 | Cupang in Balanga, Bataan |
| 2 Bedroom | The Camden Bataan COHO | Vista Land | 4,418,000 | Cupang in Balanga, Bataan |